APACRS Travel Grant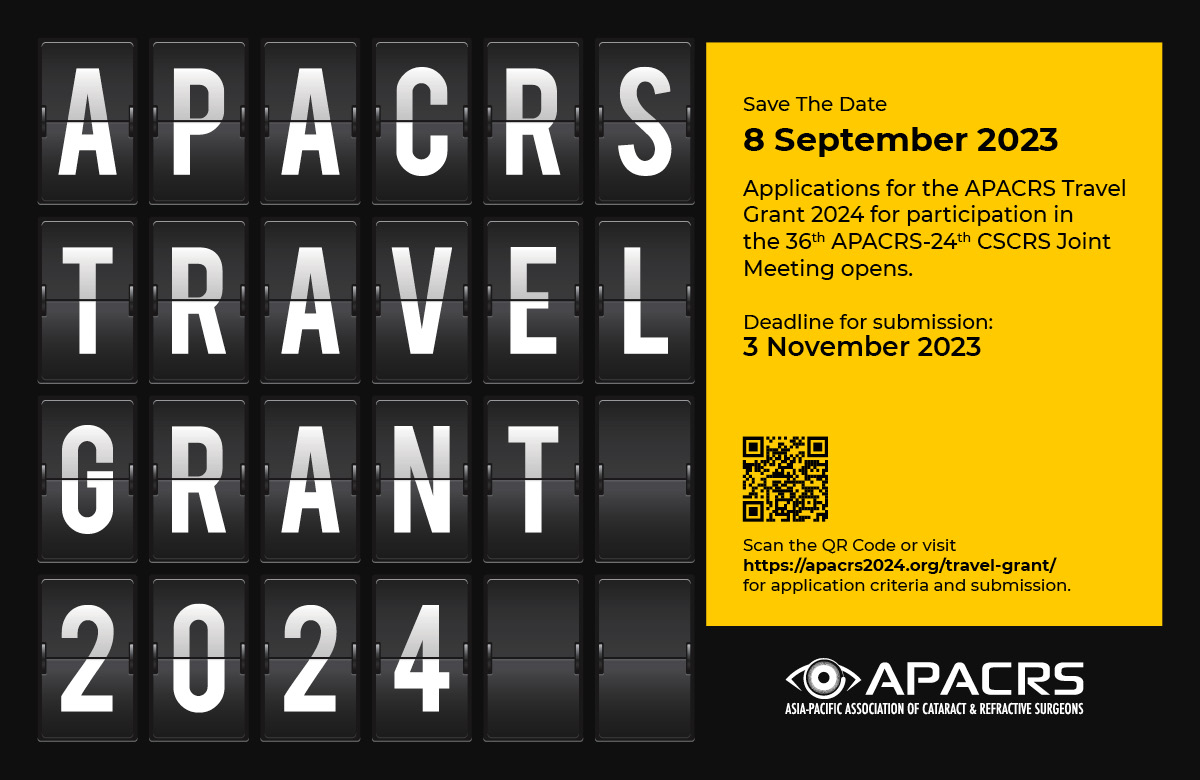 Application Criteria
Applicant must be an ophthalmology trainee/fellow below 35 years old and must not have previously received APACRS Travel Grants.
Applicant must be an ophthalmology trainee/fellow from country with regional society affiliated to the APACRS.
Applications must be submitted online by Friday, 3 November 2023, 23:59hrs (UTC+8) together with applicants' abstracts, brief CV and letter of verification of traineeship from head of department. Late submissions will not be accepted.
Each affiliated local society will review applications from its own country and nominate up to three (3) candidates.
Successful applicants whose abstracts have been accepted for presentation as Free Paper, ePosters or Videos for the 2024 APACRS Film Festival must attend the meeting in person. Those with Free Paper presentation/s must present their paper/s in person at the assigned Free Paper session/s.
Each travel grant is worth up to US$1,300, comprising reimbursement of US$1,000 to defray travel & accommodation expenses and US$300 for meeting registration at 1st tier early bird rate for trainees and fellows. Reimbursement will be paid after the meeting.
Only successful applicants will be notified via email and results will be posted on the APACRS meeting website at www.apacrs2024.org.
APACRS Affiliated Regional Societies
Bangladesh Society of Cataract & Refractive Surgery (BSCRS)
Chinese Society of Cataract and Refractive Surgery (CSCRS)
Indonesian Society of Cataract & Refractive Surgery (INASCRS)
Intraocular Implant & Refractive Society of India (IIRSI)
Japanese Society of Cataract & Refractive Surgery (JSCRS)
Korean Society of Cataract & Refractive Surgery (KSCRS)
Malaysian Society of Cataract and Refractive Surgery (MSCRS)
Philippine Society of Cataract & Refractive Surgery (PSCRS)
Thai Society of Cataract and Refractive Surgery (THSCRS)
Vietnam Society of Cataract and Refractive Surgery (VSCRS)