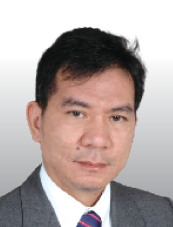 Johan A. HUTAURUK , Indonesia
Dr. Johan A. Hutauruk, Sp.M (K), is a consultant ophthalmologist and Director of the Jakarta Eye Center at central Jakarta, a private eye hospital in Indonesia with several locations in Jakarta and Indonesia.
Dr. Hutauruk is presently the President of INASCRS, the Indonesian Society of Cataract and Refractive Surgery, has participated in many live surgeries, teaching courses, lectures and actively involve as scientific committee for the Indonesian Ophthalmologist Annual Meeting. In recognition of his contributions to organize more than 10,000 free cataract surgeries per year since 2002, the Asia Pacific Academy of Ophthalmology awarded him the APAO Distinguished Service Award during the 2008 APAO and World Ophthalmology Congress in Hong Kong.
He is amongst the first to introduce proven surgical techniques in the field of cataract and refractive surgery in Indonesia and shared his experiences to Indonesian colleagues, endothelial keratoplasty (DSAEK), Implantable Contact Lens (ICL), Boston Keratoprosthesis, Corneal Tattoo, accommodative intraocular lens, DALK and corneal collagen cross-linking.
Dr. Hutauruk also member of the advisory board for Indonesian Ophthalmologist Association Annual Meeting for a consecutive 10 years, mainly responsible for the scientific contents, as well as the treasurer for the Asia-Pacific Association of Cataract and Refractive Surgeons (APACRS), and currently as the editorial member for the EyeWorld Asia-Pacific.